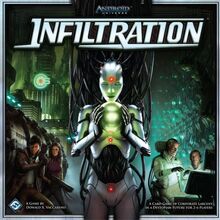 Infiltration is a game that tells the story six thieves as they infiltrate a CyberSolutions facility in order to steal valuable data.
Official Description
Edit
Designed by Donald X. Vaccarino (Dominion, Kingdom Builder), Infiltration is a tense card game of futuristic larceny in which two to six players take the roles of thieves, competing to steal valuable secrets from a highly secured corporate facility.
The most vital information lies deep within the complex, but each step inward takes you farther from escape. Worse yet, corporate mercenaries are closing in! How long will you push your luck as you avoid security patrols, surpass rival thieves, and try to download the most data before the building is locked down?
Infiltration includes:
114 Cards
149 Tokens and Markers
6 Plastic stands with Character markers
1 Security Tracker dial
1 Rulebook
Characters
Edit
Players can control of the following characters:
Game Design: Donald X.Vaccarino
Producers: Frank Mark Darden with Christopher Hosch
Editing & Proofreading: Mark Pollard with David Hansen and Mark O'Conner 
Graphic Design: Michael Silsby
Cover Art: Anders Finér
Interior Art: John Ariosa, Bruno Balixa, Ralph Beisner, Lee Carter, Trudi Castle, Carmen Cianelli, Alexandra Douglass, Tim Durning, Carolina Eade, Stéphane Gantiez, Saskia Gutekunst, K.R. Harris, Mauricio Herrera, Fabien Jacques, Andrew Mar, Mike Nesbitt, Michael Rasmussen, Emilio Rodriguez, Julian Totino Tedesco, RC Torres, Tiernen Trevallion, Emerson 
Tung, Yue Wang, Drew Whitmore
Managing Art Director: Andrew Navaro
Art Direction: Zoë Robinson and Andy Christensen
Production Manager: Eric Knight
Production Coordinator: Laura Creighton
Managing Game Producer: Steven Kimball
Executive Game Designer: Corey Konieczka
Executive Producer: Michael Hurley
Publisher: Christian T. Petersen
Playtesters: Rufus Bavgents, Chris Beck, Pedar Brown, Daniel Lovat Clark, Scott Clifton, Andy Fischer, Nate French, Michael Gernes, Molly Glover, John Goodenough, Scott Hankins, Jesse Hickle, SarahEllen Hickle, Joseph Houff, Tim Huckelbery, James Kniffen, Rob Kouba, Andy Liberko, Lukas Litzsinger, Dallas Mehlhoff, Nick Mendez, Brian Mola, Christie Mola, Mark O'Connor, Brady Sadler, Michael Silsby, Damon Stone, Jason Walden, Christian Williams, Lynell Williams, Nik Wilson, and Peter Wocken 
External links
Edit
Community content is available under
CC-BY-SA
unless otherwise noted.