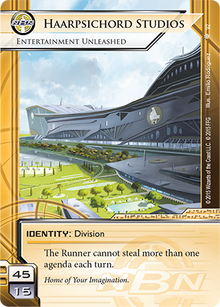 Haarpsichord Studios, located in SanSan's Old Hollywood, is one of the largest sensie studios in the world. It is a division of NBN.
They have found success with their design, carefully implemented after years of watching their rivals have projects ruined by untimely spoilers. They know you can't place too many eggs in one basket. They know that, given time, someone always preempts the marketing machine with poorly timed leaks. Accordingly, they've focused on their processes, mastering the art of moving projects swiftly from the concept stages to post-production and mass release.
In the end, Haarpsichord Studios always has another trick up its sleeve. It's always working on the next big thing, and it doesn't matter what the audience is talking about, so long as it's talking.
Community content is available under
CC-BY-SA
unless otherwise noted.